Bala Movie review
4 min read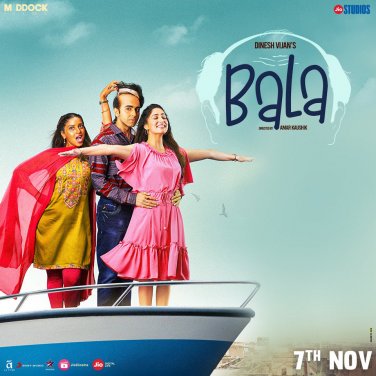 REVIEW: FILM: Bala-***/5 By Lipika Varma
DURATION :133 Minutes
STAR CAST:Ayushmann Khurana, Yami Gautam, Bhumi Pednekar, Javed Jaffrey.
PRODUCER :Dinesh Vijan.
Subject- The subject of the film,' Bala 'touches about the shortcomings of an individual –viz being,' Bald," Dark Skinned,' 'Being fat" being short and more. Indeed the topic touches the varied individual 'shortcoming vide body shaming. The latest social media highlight-,' Tik-Tok" has been implied wonderfully. This engages the audiences to its brim. The backdrop of the film especially cities like  Luck-now & Kanpur is well suited. Single screen audiences will enjoy it. 
Performances–Ayushmann Khurana has undoubtedly excelled in his performance once again. There is no looking back for this," National Award winner' actor who has brought smiles for not only the producers but to his fans as well. With,' Bala' hitting the box office success windows will surely prove as his seventh hit. 
Yami Gautam– -looked mesmerizing as a model and the shine of her beautiful skin suited the fair colored model aptly. Yami's mediocre performance is praise-worthy.
Bhumi Pednekar-Indeed Bhumi needs to bring a little more changes in her facial expressions. Her performance looked very monotonous. The way she stresses her dialogues brings no freshness. All the best to Bhumi in her next film. 
Direction- Director Amar Kaushik (film: tree fame) has proved his mettle of direction once again. The film is entertaining, especially the second half draws your attention towards the film more intrinsically.The narration leaves you emotional. 
Story & Screenplay [Niren Bhatt] is aptly done. Indeed the tight screenplay was damn splendid. And dialogues' needs a special mention which often allowed the audiences to laugh aloud. 
Music [Sachin-Jigar, B-Praak,&Jaani ] has got nothing much to offer.
Ayushmann Khurana has a huge fan following this will benefit the film hugely Film,' Bala' is a one-time watch.